Northeast HVAC News
Maine Surpasses 100,000 Heat Pump Goal.
After Maine Surpasses 100,000 Heat Pump Goal Two Years Ahead of Schedule, Governor Mills Sets New, Ambitious Target.

Governor Janet Mills today announced that Maine has – two years ahead of time – surpassed its goal of installing 100,000 new heat pumps by 2025, a milestone that represents significant progress in reducing Maine's reliance on heating oil, lowering heating costs, and curbing harmful carbon emissions.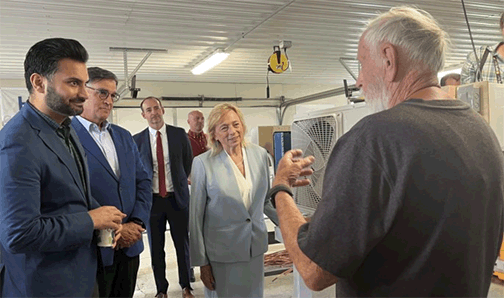 White House National Climate Advisor Ali Zaidi joins Governor Mills to announce milestone at heat pump workforce lab at Kennebec Valley Community College
To continue Maine's momentum, Governor Mills also unveiled a new target: installing another 175,000 additional heat pumps in Maine by 2027, thereby bringing the number of heat pumps installed in Maine homes, businesses, and public buildings during her time in office to 275,000. If this target is achieved, Maine would have more than 320,000 heat pumps in total installed across the state.

Maine's heat pump progress stems from legislation signed by Governor Mills in 2019, which established the state's heat pump target of 100,000, enhanced heat pump rebate incentives through Efficiency Maine, and established a low-income heat pump program at MaineHousing. Through these programs, approximately 104,000 heat pumps have been installed in Maine.

Governor Mills announced the milestone at Kennebec Valley Community College (KVCC) in Fairfield, where she unveiled the initial goal in 2019. Following that announcement, the Maine Community College System expanded its heat pump workforce programs, and has trained 558 heat pump technicians to date, including more than 250 at KVCC, which opened an all-new heat pump workforce training lab in early 2021.

The governor was joined for the announcement by White House National Climate Advisor Ali Zaidi, who extended his congratulations to Governor Mills and the State of Maine for its climate leadership by embracing heat pumps to reduce reliance on fossil fuels, increase overall energy efficiency, and decrease greenhouse gas emissions.

"Our transition to heat pumps is creating good-paying jobs, curbing our reliance on fossil fuels, and cutting costs for Maine families, all while making them more comfortable in their homes – a hat trick for our state," said Governor Janet Mills. "We are setting an example for the nation, and with our new and ambitious goal, we will continue to lead the way when it comes to embracing efficient, climate-friendly technologies that strengthen our economy, protect our environment, and save people money."
Story continues below ↓
---
advertisement | your ad here
---
"Maine is paving the way for states across the country seeking to build a clean energy future that protects our climate and creates good-paying jobs for all Americans," said Ali Zaidi, White House National Climate Advisor. "The progress also shows that President Biden's Investing in America agenda is working — helping turbocharge efforts like what's underway in Maine by expanding access to cost-saving clean energy upgrades and cutting the pollution that hurts our environment and public health. I applaud Governor Mills for her leadership and the State of Maine for reaching this ambitious goal — and now reaching even higher to promote a clean energy future for all Mainers."

"Spurred by Governor Mills' clear call to action on heat pumps in 2019, we immediately added training lab space, hired more instructors, developed new short-term training programs, and incorporated new heat pump training units into our degree and certificate programs," said David Daigler, President of the Maine Community College System. "Today, I'm proud to say it worked. Maine's community colleges have trained 558 heat pump installers, with 60 percent of them trained through short-term workforce training programs, further showing why Maine's community colleges are the state's go-to for nimble, responsive workforce training."

Maine's success in installing heat pumps has earned wide recognition for how the high-efficiency heating and cooling technology works well in rural areas with cold climates and can generate new economic and workforce opportunities for Maine people.

Installation data from Efficiency Maine Trust show heat pumps have broad adoption in rural and northern Maine, which underscores the economic benefits of the program and success of the enhanced incentive program enacted by Governor Mills in 2019.

"You have to be impressed with what Maine's community of heat pump installers have accomplished in our state," said Michael Stoddard, Executive Director of Efficiency Maine. "Their adept marketing and skilled installations make them the perfect partners for the incentive programs that the Governor and Legislature have funded through Efficiency Maine's programs, and together we are changing how Mainers heat and cool their buildings."

"We know that when a lower-income home can add a heat pump, it helps reduce overall heating and cooling costs and trims our dependence on carbon-emitting fuels. It helps our planet and enhances a home's affordability and a heating system's reliability, all at the same time," said Erik Jorgensen, Senior Director of Communications and Government Relations at MaineHousing. "MaineHousing is proud of its contributions in helping Maine accomplish our heat pump goal."

Since taking office, Governor Mills has prioritized action against climate change in Maine through reducing carbon emissions, transitioning to renewable energy, and making Maine communities more resilient to climate effects.

In May, she was elected co-chair of the U.S. Climate Alliance, a bipartisan coalition of 25 governors committed to fighting climate change, which together represent more than half of the U.S. population and 60 percent of the national economy.

In 2019, with bipartisan support of the Legislature, Governor Mills enacted laws setting ambitious targets for transitioning to renewable energy and reducing greenhouse gas emissions. These include reducing greenhouse gas emissions in Maine by 45 percent by 2030 and 80 percent by 2050, and transitioning Maine's electricity use to 80 percent renewable energy by 2030.

Earlier this, with Maine experiencing high energy prices caused by volatile global markets, Governor Mills committed to accelerate Maine's transition to using 100 percent clean energy to 2040, a move that would ensure the expansion of climate-friendly technologies in Maine – such as heat pumps – are powered by clean electricity.

In 2019, Governor Mills also pledged Maine will become carbon-neutral by 2045, a commitment which she signed into law in 2022.

The governor in 2021 also announced a new State program, the Community Resilience Partnership, that was recommended by the climate plan to help Maine communities reduce emissions, transition to clean energy, and increase resilience to climate effects.

Since opening to enrollment in early 2022, 148 Maine cities, towns and Tribal governments have chosen to participate in the Partnership as individual entities or regional coalitions, and more than $3.7 million in grants have been awarded to 74 community projects across the state.

Governor Mills has also committed to more than doubling Maine's clean energy jobs to 30,000 by 2030, and made several historic investments in climate priorities, thanks to Maine's strong economic recovery and the Maine Jobs & Recovery Plan. These investments include:

$50 million for energy efficiency programs, such as residential weatherization and heat pumps and other efficiency upgrades for schools, towns, non-profits, and hospitality businesses.
$27.5 million for municipal grants to protect infrastructure from flooding, rising sea levels, and extreme storms.
$8 million for the Clean Energy Partnership, an initiative to grow the Maine's clean energy workforce and innovation economy.
For an updated guide on climate incentives now available for Maine residents and businesses, please visit mainewontwait.org.
###