RectorSeal® Introduces Quiet, Convenient Aspen® Mini White Silent+ Condensate Pump.

Aspen Mini White Silent+ condensate pump, a flexible, convenient option that complements the high-wall ductless units of all leading residential and commercial manufacturers.
This new-generation mini pump fits easily beneath such units, and the slim, stylish profile design offers installation options and quick access for routine maintenance. In addition: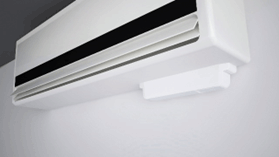 • The Aspen Mini White Silent+ incorporates new ultra-quiet technology that limits any vibration caused by water pulses, thus reducing sound transfer, while a resilient mounting further minimizes fluctuation and noise.

• The soft-start capacitance technology driven by a fully variable speed motor optimizes the pump speed in response to the unit's flow rate.

• The pump's advanced design with fully potted electronics provides resistance to shock and vibration and prevention of moisture and corrosion.
A core benefit of the Aspen Mini White Silent+ condensate pump is its flexible installation. The unit is designed to fit beneath a high-wall indoor ductless cassette positioned within the ductless unit's shadow line. The pump has a reversible inlet that allows for both left and right installations, and the unit's easy-access panels mean there is no need to disturb the evaporator when cleaning the unit's filter.
Please visit www.rectorseal.com for additional details.
---
Leak Sealer F4 Express 400ml.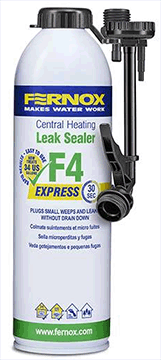 Leak Sealer F4 is a internal leak sealer developed for use throughout a central heating system to seal small, inaccessible leaks and weeps which may cause pressure loss and boiler breakdown. Once dispersed within the system, the product finds the area of oxygen ingress and forms a polymer to seal the pinhole.
Effective within 1-24 hours after application, the unique sealing efficiency of this market-leading water treatment chemical has been proven to prevent blockages or restrictions within the boiler or vulnerable system components such as pumps and safety devices.
A leak can be quickly and efficiently sealed, without the need for a complete system drain down. The Fernox Express range uses Barrier Pressure Pack technology and compressed air propellent to expel the product so the entire range is non-flammable. The propellent (compressed air) is not mixed with the active product so there is no risk of air ingress into the system which could accelerate future risk of corrosion. For more information visit Leak Sealer F4 Express 400ml
---
Bradford White Water Heaters announces KwickShot® tankless electric water heaters .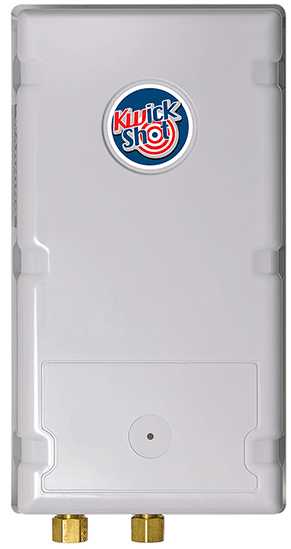 New convenient and efficient electric water heater delivers high performance and reliability along with continuous on-demand hot water

KwickShot®, a reliable and easily installed tankless electric water heater available in thermostatic and non-thermostatic models to meet a range of water temperature needs in a variety of everyday applications.
With on-demand hot water and continuous water flow, KwickShot® ensures hot water is instantly available for kitchens, bathrooms, utility sinks, wet bars and other household needs. KwickShot® offers speed and reliability combined with premier high performance.
The Kwickshot® tankless electric water heater also includes:
• A safe control system that activates the heater only on demand.
• An LED indicator communicates system status and heater operation feedback.
• A five-year limited warranty on leaks and one-year warranty on parts.
To learn more about Bradford White Water Heaters, please visit https://www.bradfordwhite.com or call (215) 641-9400.
---
New DrainMate adaptor expedites connecting ductless mini-split system wall-mount evaporator drain hose directly to 3/4-inch PVC.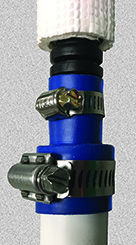 The DrainMate DMB-34 is a blue flexible plastic adaptor fitting for quickly and easily creating a tight, reliable connection from a DMS wall-mount evaporator's 5/8-inch (16-mm) condensate drain hose to a 3/4-inch (20-mm) Schedule-40 PVC drain pipe commonly used in many applications.
The DMB-34 is fabricated from a special grip-enhancing, non-slip material. The 5/8-inch female end accepts any of the standard plain or ribbed plastic nipples commonly supplied by most ductless manufacturers for fitting to the end of the drain hose.
The 3/4-inch female end slides directly onto any standard PVC pipe to ensure a reliable and easy connection secured by clamps or cable ties.
The DMB-34 completes the color-coded, easy-to-install DrainMate product line, which can accommodate any possible DMSS drain line connection challenge.
For more information on other innovative Marketair HVAC/R products, please visit www.marketair.com, call (732) 985-8226 or email info@marketair.com.
---
Three-Sided Angle Installation for Greenheck Fire and Combination Fire Smoke Dampers.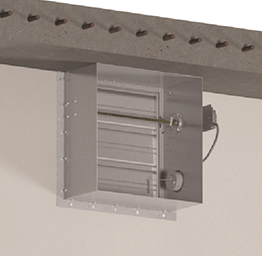 Greenheck has developed a UL-approved three-sided retaining angle installation method for fire and combination fire smoke dampers. This method is ideal for installations where the damper sleeve is tight up against a wall, floor, or other obstruction with no room for a retaining angle on one side.
Greenheck's installation does not require the use of any firestop material, while other three-sided angle installation methods require fire stop material to be applied to a specified minimum thickness on the side of the damper without the retaining angle.
Complying with the minimum thickness requirement without scraping off the fire stop material during installation can be difficult, and makes it complicated for building inspectors to confirm that the required amount of fire stop material has been applied. With Greenheck's three-sided angle installation method, fasteners are run from inside the damper into the wall opening on the side without the retaining angle. This makes for a faster, cleaner and more cost effective installation.
For more information about Greenheck products, visit www.greenheck.com.
---
Johnson Controls GLAS® smart thermostat..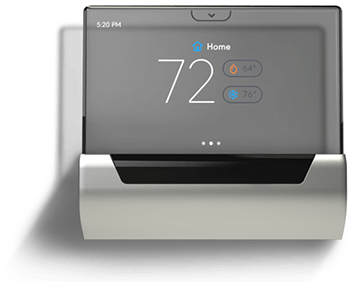 Designed by the same company that invented the room thermostat, GLAS leverages more than 135 years of insights in building control systems to create a thermostat with an efficient and modern perspective.
It is the first smart thermostat of its kind to utilize a translucent OLED touchscreen display to control its functions. Users simply touch the screen to change the temperature, monitor indoor and outdoor air quality, track energy savings or perform other functions.
GLAS also tracks and assesses multiple aspects of air quality to ensure that occupants are consistently comfortable, knowing that a healthy home starts with the air its residents breathe. In addition to temperature, GLAS reports humidity, total volatile organic compounds (tVOCs) and equivalent carbon dioxide (eCO2) inside a home or building. When air quality falls below moderate levels, GLAS can intelligently operate a fan or ventilation equipment.
For more information visit https://glas.johnsoncontrols.com
---
Comfortmaker® Introduces Ion™: A New Smart Thermostat to Complement Premium Climate Control Solutions.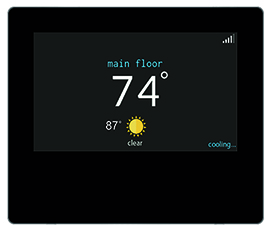 Ion allows dealers to enhance a top-tier system with an attractive control

Comfortmaker Heating and Cooling Products is pleased to introduce its Ion system control, a new smart thermostat for its top-tier products that provides improved aesthetics and enhanced efficiency for variable-speed air conditioners and heat pumps. Comfortmaker is a part of UTC Climate, Controls & Security, a unit of United Technologies Corp. (NYSE: UTX).

The Ion thermostat provides homeowners with a smartphone-inspired control that offers remote access, seamless programming and over-the-air software updates to provide a convenient user experience while leveraging the maximum capabilities of their HVAC systems.
The Ion thermostat is recommended for modulating gas furnaces, communicating variable-speed fan coils, as well as inverter-driven heat pumps and air conditioners. It's also an ideal control for Comfortmaker communicating geothermal heat pumps.
Visit www.Comfortmaker.com or www.GoComfortmaker.com for more information on the Ion system control.
---
A. O. Smith Polaris® Delivers High Efficiency, Hot Water for Homes.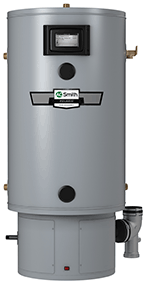 The stainless steel Polaris by A. O. Smith is available in 34- and 50-gallon models.

The Polaris, which operates at a cost-saving thermal efficiency of up to 96 percent, easily installs and pairs with recirculating systems or domestic space heating systems.

Available in 34- and 50-gallon models, Polaris achieves energy efficiency through an enhanced ultra-low NOx modulating gas burner that ensures operation at lower input rates and maintains years of reliability with a durable tank and heat exchanger built of corrosion-resistant stainless steel.
Compatible with both natural gas and propane, the Polaris features a power direct vent design that fits with PVC, CPVC or Polypropylene (solid core only) through a sidewall or roof. The Polaris can also be paired with an optional concentric vent kit. Additionally, two front-access panels give contractors simple access to all serviceable components.
Polaris electronic controls give homeowners precise temperature control and advanced water heater diagnostics through a large, easy-to-use touchscreen display. Engineers perfected a homeowner-friendly "whisper quiet operation" utilizing an ultra-quiet blower and burner that minimizes ambient noise in the home.

The Polaris also comes with a 10-year limited tank warranty.

For more information about the Polaris High Efficiency condensing gas water heater and A. O. Smith's comprehensive selection of hot water solutions, visit HotWater.com.
---
Armstrong's Variable Speed Retrofit Solution.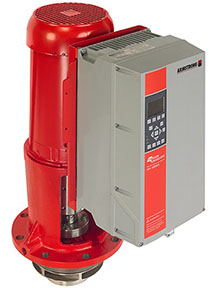 Building Owners Can Save Up To 70% on Energy Costs

The Design Envelope Vertical-In-Line Retrofit allows building owners to replace the moving parts of an installed Armstrong constant speed pump while retaining the existing pump casing, insulation and piping. This innovative solution reduces the costs for equipment, shipping and scrap as well as installation labor.
The Design Envelope Vertical-In-Line Retrofit provides owners of existing constant speed pumps with an opportunity to save up to 70% on energy costs by upgrading to variable speed. Design Envelope technology accommodates future changes in flow requirements and its variable speed operation means longer equipment life (20%-30%), and greater reliability.
For more information about Armstrong Fluid Technology visit www.armstrongfluidtechnology.com.
---
TCS releases UbiquiSTAT™ simple-to-use BACnet and standalone commercial thermostat line.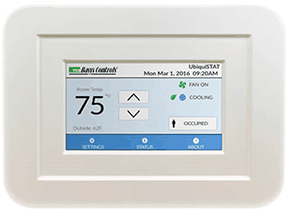 TCS, an innovative leader in enterprise energy management solutions, announced today the release of the UbiquiSTAT line of BACnet-certified commercial thermostats, the next generation of easy-to-use, application-specific touchscreen controls for contractors and commercial facilities managers.

The UbiquiSTAT line from TCS features a range of models that cover virtually any commercial application – from the all-purpose, low-cost Model 4020, to the advanced application Model 4050 that handles modulating applications with up to six stages of heat or cool.
▪ Onboard BACnet Object Explorer to make programming in the field simple and convenient
▪ All BACnet points are completely open and unlocked for unmatched flexibility
▪ BTL-certified, Title 24 compliant and designed and manufactured in the United States

With the release of the new product line, TCS is offering savings of over 40% off the sell price. For a limited time, the advanced UbiquiSTAT Model 4050 is available direct from TCS at an introductory price of $225.00 if purchased by 11/15/2016. After 11/15/2016, the model US4050 will sell for $395.

For more information on the UbiquiSTAT family of products, please visit www.ubiquistat.com.
---
RGF INTRODUCES THE UPCO QR™.
THE ULTIMATE PHOTOCATALYTIC OXIDATION IN-DUCT AIR PURIFYING SYSTEM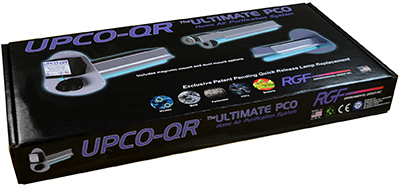 The leading innovator of Indoor Air Quality (IAQ) products, RGF Environmental Group, Inc., has introduced their latest product for the HVAC/IAQ industry. The patent-pending UPCO QR™ photocatalytic oxidation in-duct air purifying system has the lowest pressure loss, highest surface area and the most competitive price compared to similar PCO products in the HVAC/IAQ marketplace.
The unique combination of technologies incorporated into the UPCO QR™ work to create RGF's exclusive low pressure loss, pure carbon infused bed. Combining titanium dioxide, silver, copper and zinc metal into this proprietary dual catalyst bed traps and then reduces common indoor air pollutants. VOC's, bacteria, viruses, mold spores and odors are effectively diminished as air cycles repeatedly through the HVAC system, resulting in improved indoor air quality for both residential and commercial applications."
For additional information visit our website: https://www.rgf.com/air-purification.
---
Vibration & Seismic Technologies Introduces the Faster, Easier
Quick Clip™ for Stiffening Hanger Rods in Seismic Zones.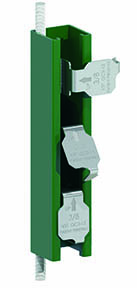 Vibration & Seismic Technologies (VST), a leading manufacturer of seismic-related construction products, introduces the new patent pending Quick Clip™ hanger rod stiffening device, which significantly reduces time and effort for mechanical, electrical and plumbing contractors.
Used with strut to vertically stiffen hanger rod, the Quick Clip™ installs in seconds with no tools required.
"Stiffening of hanger rods is required by Code in the vast majority of construction projects located in seismic zones, as well as most projects throughout the U.S. that are federally owned, regulated or funded," says Dan Duggan, Sr., Vice President of Product Development at VST.
"The Quick Clip™ installs faster and easier than any other rod stiffener in use today, resulting in drastically reduced total installed costs."
The single-component, stainless steel Quick Clip™ snaps into the strut and secures it to the rod with no bolts or tools needed. It can be installed in less than 5 seconds. The Quick Clip™ is currently available in two sizes, for use with 3/8" and 1/2" hanger rod. Additional sizes will be available soon. For more information and to see a video demonstration, visit vstseismic.com.
---
Belimo Now Offers HVAC Zone Solutions for Residential Applications.

Belimo Americas, the trusted leader for 40 years in commercial HVAC is now available for residential applications. Whether you're a home owner, contractor, equipment manufacturer or home automation provider, Belimo Residential offers the right solutions for you. From innovative dynamic air balancing solutions that provide maximum occupant comfort to smart design actuators with durable dampers providing top quality performance you can rely on.
Factory installed round damper assemblies from 4" to 20"

Standard, premium, in-duct or pressure bypass assemblies to meet your client's needs

Fast, easy, and error proof installation for pressure bypass control dampers

One button setup on pressure bypass damper assemblies for time saving installations

High quality products with trouble free operation for reliable performance

5-year limited warranty.
For 40 years, Belimo has provided innovations in Comfort, Energy Efficiency and Safety Solutions to customers throughout the world, all of which are backed by Belimo's unsurpassed 5-year warranty. For more information, on Belimo Residential visit www.belimoresidential.com or call 1-844-541-7467.
---
Comfort and energy savings headline features of new Champion LX Series residential gas furnaces.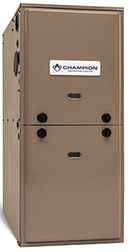 Two new residential gas furnaces in the Champion LX Series from Johnson Controls deliver comfort and energy savings of 20 and 37 percent when compared to older 60 percent AFUE models. The all-new TM8Y and TM9Y combine the comfort of two-stage heating with the efficiency of a standard ECM motor to earn AFUE ratings of 80 and 96 percent.
Manufactured using state-of-the-art quality control and assembly processes, including more than 125,000 hours of testing, the furnaces feature Champion's industry-leading five-year Complete Assurance Limited Warranty, which provides optional furnace replacement in the event the heat exchanger fails within five years of installation. In addition, the TM9Y model is ENERGY STAR®-rated.
Both furnaces are factory-shipped for upflow or horizontal applications and can be converted for downflow applications. Easily accessible controls and no knockouts further enhance the installation process. Other features of the furnaces include:
• Compact 33-inch height for installation in tight spaces
• Built-in, high-level self-diagnostics with fault code display for simplified servicing
• Electric hot surface ignition that conserves fuel
• 100 percent shut-off main gas valve
• High heat transfer aluminized steel tubular heat exchanger with lifetime limited warranty.
For more information, visit www.championhomecomfort.com.
---
Johnson Controls introduces York LX Series packaged units, new standard in residential and commercial heating and cooling.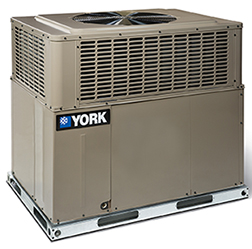 14 SEER units feature higher efficiency, weather and corrosion resistance, and contractor-friendly design.
York LX Series packaged units by Johnson Controls set a higher standard to heat and cool residential and light commercial buildings, featuring a contractor-friendly design, easy installation and service, reliable technology and an advanced manufacturing process. The units are 29 percent more efficient, earning a 14 Seasonal Energy Efficiency Ratio (SEER) rating and exceeding U.S. Department of Energy efficiency standards.
Extensive laboratory testing simulates more than 20 years of operational performance to verify component performance during weather events, humidity levels, under/over voltage and temperatures down to -10 degrees Fahrenheit. In addition, the cabinet's 1,000-hour salt spray rating ensures an exterior finish with a superior appearance and outstanding corrosion protection.

To learn more about York LX Series packaged units, visit york.com/lxpack-unit or talk to your local York distributor. To locate a distributor near you, visit https://www.yorkhvacdealer.com/
---

Introducing the WFDN Series Waterflow Detector from System Sensor.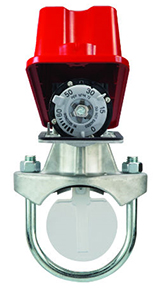 The WFDN Series Waterflow Detector is fully redesigned to meet the needs of today's fire sprinkler professional. The new features, including the timer dial, cover, and terminal block, add convenience and save on installation time.
The new timer dial is a first for waterflow detectors with a built-in time delay. Not only is it large and easy to turn, but its high-contrast, pad-printed markings and tactile features make it easy to set by feel in dimly lit or hard-to-reach locations. The detector's built-in time delay mechanism is still immune to dust and other contaminants, but now it's also designed for improved timer accuracy and repeatability.
To find out how to convert to the fully redesigned WFDN Series Waterflow Detector offering or for more information about sprinkler products, please
visit: systemsensor.com/sprinkler.
---
Bonomi Introduces New Direct Mount Grooved-End Butterfly Valve That Simplifies Actuation.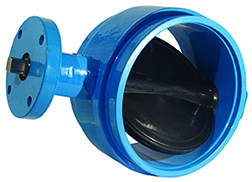 Bonomi North America has introduced a new series of grooved-end butterfly valves for use in commercial and light industrial applications. The new valves are built with an ISO mounting pad and stem for simple automation with electric or pneumatic actuators.

Standard features of the new Bonomi Series L700E Series include an epoxy-coated ductile iron body, EDPM-coated ductile iron disc, and a 410 stainless steel ISO square stem. An ISO 5211 mounting pad is integral, making it easy to add any ISO 5211 standard actuator or manual operator. A BUNA-N coated disc is optional.
Available in sizes 2" to 12", the L700E is designed to meet ANSI/AWWA C606 and MSS SP-67. Typical applications include hot and cold water, HVAC, chilled water, and fire protection systems.

Maximum working pressure is 200 PSI. All Bonomi butterfly valves are tested to 100 percent of their rated pressure before shipping.
Bonomi is one of the very few fully integrated manufacturers of both electric and pneumatic actuators and direct mount valves. The L700E can be easily performance-matched to the company's Valbia-brand actuators for optimal performance, long life and quiet operation.

For more information on the Bonomi L700E series or other Bonomi products, contact Bonomi North America at (704) 412-9031 or visit www.bonominorthamerica.com
---
Noritz Expands Tankless Residential Offering by Three Units, For Small to Midsized, Whole-House Applications.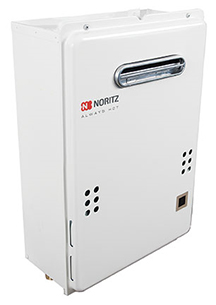 NR501, NR662, and NRC711 offer compact design with a heat exchanger that is three times as durable, all-new scale-detection software for more proactive leak prevention, and a built-in digital display to aid servicing.
•a new, 12-year heat exchanger three times more durable in its ability to resist scale buildup;

•new scale-detection software that minimizes leaks by indicating when it's time to de-scale (flush) the system;

•a compact design with an integral readout window, permitting basic servicing without the need for a remote device. Located at the lower right of the front panel, the small display indicates flow rates, temperature and common error codes.
"The scale detection software and the integral display window are designed to alert homeowners and service contractors of scale buildup within the unit," explains Noritz marketing manager Jason Fleming. "The main benefit of this early alert system is proactive leak prevention, of course. But thanks to the more durable heat exchanger, these units won't need to be flushed as often to assure a ready and abundant supply of hot water for the household."

Noritz began shipping the new models – the NR501, NR662 and NRC711 – nationwide in early January.

NR501: A hot water solution for one-bath homes in warmer climates, this strictly outdoor unit (photo above, left) has an Energy Factor of 0.86 for natural gas (NG) and 0.85 for liquid propane (LP). Part of the ValueSolutions series of gas-fired residential tankless water heaters, the Noritz NR501 carries the following specifications.
For more information on the NR501-OD, NR662-OD, NRC711-DV and NRC711-OD tankless water heaters, visit Noritz Technical Support at support.noritz.com.
---
Introducing the HE-Z Series Fan Coil.
Energy Saving Products Ltd. HE-Z Series of fan coils.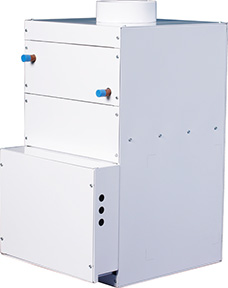 This innovative product will feature our newly developed PSB (Pressure Sensing Board) motor controller, which is a combination of our standard board (in use for 8 years) and our PWM controller (5 years), which will utilize many of our past features while adding some new.
Packaging the new PSB together with a Variable
Frequency Drive manufactured by the WEG Electric Corporation, the HE-Z series will become your ultimate choice in a multi-functional fan coil. This move will take the former EPC control board and EPC circuit board out of the product line.
The introduction of the new Variable Frequency Drive by WEG is a culmination of two years of testing in the harshest environments we could find in North America and internationally. The new WEG drive features internal diagnostics not available on previous models. It has proven to be extremely reliable and robust in all applications. Our very solid 3 phase motor continues to be standard in the HE-Z series.
Energy Saving Products is proud to continue to bring you industry-leading product advances, which would not be possible without your input, thank you.

For more information visit www.hi-velocity.com or call 1-888-652-2219
---
Emerson Climate Technologies Launches New Service Contactor to Increase Air Conditioning System Reliability.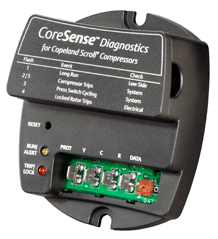 New contactor reliable to a million cycles, sealed to keep out bugs.
CoreSense™ Protection modules for Copeland Scroll™ compressors feature advanced electronic switching technology that has been qualified up to one million cycles; four to five times a standard contactor.
The contactor's internal microprocessor control nearly eliminates contact welding and pitting. In addition, the circuit board-mounted relay is completely sealed and enclosed, which prevents common problems with pests and debris.
CoreSense Protection modules give technicians insight into the system through the compressor, providing valuable information to help diagnose problems quickly and accurately, reducing costly callbacks. The module monitors both the compressor and system for damaging conditions such as short cycling, pressure trips, and locked rotor.
For more information visit www.emersonclimate.com/coresense.
---
PORTER-CABLE® Expands 20 Volt MAX* Linked System™ with Six New Cordless Tools.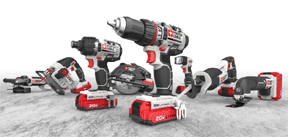 New tools, combination kits, and lithium ion batteries added to expand the breadth of the High Performance Cordless Line.
PORTER-CABLE announced today the expansion of its 20V MAX* Linked System™ for tradesman.
PORTER-CABLE is adding six new cordless power tools, new combination kit solutions, and a new MaxPack extended runtime 20V MAX* Lithium Ion Battery to the popular 20V MAX* Linked System. The new cordless tools include the Reciprocating Tiger Saw®, 6-1/2 inch Circular Saw, Oscillating Tool, Cut-off Tool/Grinder, Jigsaw, and Pivoting Flashlight.
The PORTER-CABLE MAX* Linked System maximizes a
The PORTER-CABLE 20V MAX* Linked System expansion line will be available at Lowe's and independent distributors in November 2013. The 20V MAX* Linked SystemTM power tools are backed with a three-year limited warranty, one-year service contract, and 90-day money-back guarantee. The 20V MAX* Linked SystemTM batteries come with a two-year limited warranty. For more information about PORTER-CABLE professional-grade power tools, visit www.portercable.com.
---
Johnson Controls Introduces Variable-Speed Screw Chiller.
Johnson Controls introduces the YORK® YVWA water-cooled screw chiller. The innovative design of this new chiller, with energy-saving variable-speed technology, helps cut energy costs and carbon emissions by as much as 30 percent. Johnson Controls supplies more variable speed chillers than any other manufacturer.
The YVWA increases sustainability by using HFC-134a refrigerant, which has zero ozone-depletion potential and no phase-out date. Its innovative design reduces the number of potential leak points by 35 percent. In addition, Johnson Controls proprietary falling-fi lm evaporator reduces the chiller's refrigerant charge by as much as 30 percent compared to conventional designs.
Because the YVWA screw chiller is capable of handling a higher pressure lift than a centrifugal chiller, it can be used in both thermal-storage and heat-pump applications, while delivering the highest efficiencies available. This remarkable flexibility also allows the chiller to utilize a wide range of heat-rejection methods, including an open cooling tower, dry cooler, adiabatic cooler, heat recovery, or heat pump. To learn more about the YORK YVWA chiller, visit www.johnsoncontrols.com/yvwa.
---
Noritz Condensing Tankless Water Heater Offers Higher Efficiencies, Longer Vent Runs.
Noritz has expanded its ecoTOUGH™ Series of gas-fired residential condensing tankless water heaters with the new NRC83, an ENERGY STAR®-rated unit designed for smaller homes and multi-family dwellings.
Available throughout North America in both indoor (the two-pipe, direct vent NRC83-DV) and outdoor (NRC83-OD) models, the new wall-mounted units have an energy factor (EF) of 0.92 for natural gas and 0.94 with liquid propane – approximately 30 points higher than a standard, storage tank-type, gas-fired water heater. For more information on the new NRC83, visit www.noritz.com.
---
New Mitsubishi Electric meView App Helps Homeowners Visualize System.
The new meView™ app, the latest in a series of mobile applications from Mitsubishi Electric, provides homeowners and professionals with a customized virtual view of how a Mitsubishi Electric split-ductless product would look in the home. This tool is designed to make it easier than ever to select and install America's number one selling ductless cooling and heating system.
To learn more about products from Mitsubishi Electric, visit www.mehvac.com.
---