Northeast HVAC News

2022 Quad Sweepstakes!
Windsor Winair will be Raffling off a Honda Foreman 4x4 TRX520FM1!
This sweepstakes will be based on Mitsubishi systems sold. For every outdoor unit purchased customers will receive a raffle ticket. In lieu of this raffle there will be a technical training here at Windsor Winair on Thursday March 24th. The winner will be selected at the training.
Story continues below ↓
---
advertisement | your ad here
---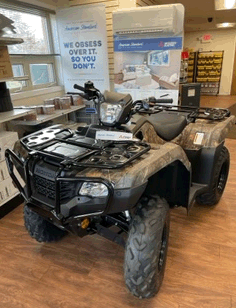 We will do breakfast from 7:45am-8:00am, class will be approximately 4 hours: 8:00am-12:00am, followed by the raffle drawing and an optional Q&A session for KUMO and any other tech questions you may have!

Please contact Zach Baskin at 860-291-9000 or zrbaskin@winair.com to secure your spot!
About Windsor Winair
Windsor Winair is the premier service delivery wholesaler for Hartford county and surrounding areas. Founded in 1995 by Glen Baskin, who saw the need for a quick, accurate, and knowledgeable HVAC supply company in the heart of the state. Since then, we have served the area with the utmost in professional service.
Being part of Winsupply, we are supported by a nation wide network of suppliers, in all the construction trades. That means if we donít have what you need, we can get it. Usually within 24 hours. Give Windsor Winair a call for your next residential or commercial job, and experience the difference for yourself.
###