Northeast HVAC News
Join us for CCOM's HVAC Trade Show in the Coach's Club at MetLife Stadium!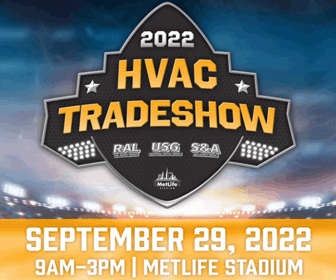 2022 HVAC Tradeshow - Thursday, September 29th from 9AM - 3PM

We are so excited to have more than 50 brands and exhibitors join us at our HVAC Tradeshow in the Coaches Club at MetLife Stadium, home of the NY Jets and the NY Giants!

Join us as we demonstrate new products, see the latest tech and discuss the future for HVAC! Win prizes, giveaways, play games and more!.

Story continues below ↓
---
advertisement | your ad here
---
Featuring a diverse array of HVAC manufacturer's in the residential and commercial segments
- Meet with industry experts
- Learn about the latest technology
- Connect with leading manufacturers
- Benefit from hands-on demonstrations
- Hourly tours of MetLife Stadium
- Mingle With Special NFL Guests
- Refreshments, prizes, and giveaways!

Find out more info:- www.hvactradeshow.com

About CCOM Group Inc.
CCOM Group, Inc. and its subsidiaries has been an industry leader in heating, ventilating and air conditioning (HVAC), climate control systems, plumbing and electrical supplies.

Through its subsidiaries and divisions (Universal Supply Group, RAL Supply Group, S&A Supply) distributes equipment, parts, and accessories to the Northeast.

We proudly serve contractors, consumers, builders, and the commercial and industrial sectors while maintaining our uncompromising principles as we grow.
###