Northeast HVAC News
Designer Bath and Salem Plumbing Supply Opens New Showroom Location in Watertown.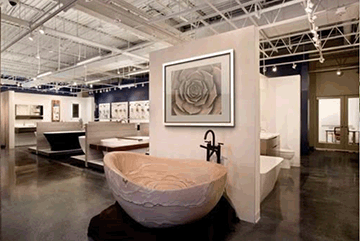 Designer Bath and Salem Plumbing Supply, New England's longest-standing provider of fine fixtures, furnishings and accessories for the kitchen and bath, announces the opening of its second showroom. The new space in a vibrant and ever-evolving city of Watertown will bring a wealth of knowledge, expertise and expansive product selection to homeowners, interior designers, architects, and plumbing and construction professionals in the Greater Boston Area.

The showroom, designed by renowned architecture firm Bergmeyer, encompasses 7,000 square feet and features a combination of vignettes, faucet walls and live displays to highlight the vast product offerings, while providing visual examples of how pieces can be incorporated into a home or office setting.
Story continues below ↓
---
advertisement | your ad here
---
Created with the objective of being a technologically-savvy, engaging space that inspires great design and collaboration. The new showroom is open to the public and includes features such as:
◦Wide-ranging selection of state-of-the-art products from the top manufacturers in the world, many of which are exclusive to Designer Bath
◦Modern, multi-sensory "Experience Room" featuring: 'smart' showers with aromatherapy, chromotherapy and music; a $10,000 TOTO toilet that uses integrated UV lighting and electrolyzed water for self-cleaning; and heated floors that radiate warmth
◦Glamorous display of luxury yacht-style THG Paris faucets
◦Comfortable and welcoming ambiance, courtesy of a working fireplace in the lounge area
◦Spacious areas designated for clients to utilize during meetings with design professionals and showroom staff

"When deciding to take this next step and expand our business, we deliberated about where to open a second showroom. Watertown was the ideal location since it's easily accessible for customers based in Boston and the Metro West communities," said Jason Sevinor, third generation family owner and President of Designer Bath and Salem Plumbing Supply. "We're excited to share the diverse product selection, boutique experience and superior customer service that our clients have experienced at our Beverly showroom on the North Shore for years, and we are thrilled to join Watertown's dynamic community of small businesses."

Visit the Watertown location at 604 Pleasant Street.

To learn more or schedule an appointment with a showroom representative,
visit www.designerbath.com.
###