Northeast HVAC News
F.W. Webb Adds Uponor PEX-a to Portfolio.
F.W. Webb Company has added Uponor PEX-a piping and fittings to their plumbing and heating product lineup. PEX-a is a flexible plastic tubing used for commercial and residential potable water, hydronic heating, radiant cooling and heating, fire protection and snow and ice melting applications. Backed by over 50 years of proven performance, Uponor PEX-a is the leading choice among contractors today.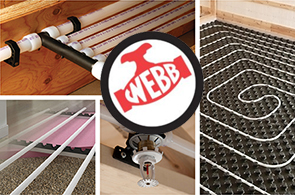 Unlike copper and CPVC systems, PEX resists corrosion, pitting and scaling. Featuring a flexible and durable design, Uponor PEX-a piping systems can expand up to three times its original diameter, making it the most freeze-resistant piping available. It offers fewer connections and potential leak points for greater installation efficiency, water conservation and more affordable material costs. Uponor also has one of the most comprehensive offerings on the market with PEX-a piping available in sizes up to 3" for potable applications and 4" for closed-loop hydronic applications.
Story continues below ↓
---
advertisement | your ad here
---
"We consistently review our product portfolio to ensure it includes the latest technology and leading brands in the industry," said Jeff Thompson, Senior Vice President, Purchasing, F.W. Webb. "Uponor products are a high-quality and long-lasting solution. We are pleased to now have it available in our stores across the Northeast."

Uponor Pex-a product, AquaPEX® pipe, coupled with their unique ProPEX® connection method, transports water through heating and plumbing systems. Its innovative design helps eliminate water hammer and also dampens rushing water noise. PEX-a tubing embedded in the slab or under the floor can also circulate warm or cool water in radiant systems. Outside, it can be used under concrete and asphalt for snow and ice melting systems. In addition, Uponor PEX-a can be used for hydronic piping, pre-insulated pipe and fire sprinkler systems.

About F.W. Webb
An industry pioneer since 1866, F.W. Webb Company is the largest wholesale distributor of plumbing, heating, HVAC, refrigeration, pipe, valves and fittings in the Northeast. F.W. Webb has grown from a single location to more than 90 across nine states and proudly offers customers an extensive inventory of products and dedicated services that reach from underground to the rooftop. Covering 15 areas of expertise, specialty markets include process controls, water works, environmental services and more. F.W. Webb also operates more than 40 Frank Webb Home bath, kitchen and lighting retail showrooms. For more information visit www.fwwebb.com and connect on Facebook.

About Uponor
Apple Valley, Minn.-based Uponor North America strives to be the partner plumbing and HVAC professionals rely on for smart water and energy solutions. The company is helping to advance the construction industry through innovation, education and advocacy focusing on the defining issues of our time: water, energy and labor. An award-winning manufacturer of PEX piping and provider of plumbing, fire safety, radiant heating/cooling, hydronic piping, and pre-insulated piping systems, Uponor offers solutions for new construction, retrofits and remodels in the residential, light commercial and commercial markets. Uponor partnered with Belkin International in 2016 to form Phyn, a new intelligent water company that is revolutionizing the way consumers interact with water and helping solve major challenges facing the global water supply. Recognized for best-in-class manufacturing, sustainability, economic development and as a top workplace, the Uponor group of companies employs more than 4,000 worldwide. Uponor group's global headquarters are located in Vantaa, Finland. For more information, visit uponor-usa.com.


###