Northeast HVAC News
Coming Home With Habitat.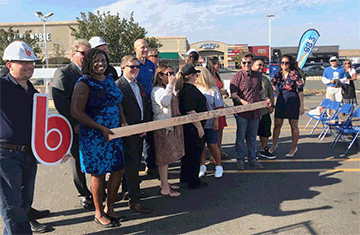 On Thursday and Friday, September 26 and 27, ABCO and American Standard Heating & Air Conditioning joined forces with WGMQ Magic 93, 1450 WCTC and other local sponsors at the Coming Home with Habitat event.
The teams put on their hard hats and hammered away to help make the dream of homeownership a reality for a deserving family. It all took place at the Brunswick Square Mall on Route 18 on East Brunswick, New Jersey in support of Habitat For Humanity of Greater Plainfield and Middlesex County.

Under the supervision of Habitat Master Builder Tom Wesco, the volunteer crews assembled wood panels and frames in the construction tents that will be brought to the actual home site. One totally unique feature of the home is that all the builders and sponsors write dedications, best wishes, and other loving messages on a few select two-by-fours that serve as a permanent tribute to the homeowner.
Story continues below ↓
---
advertisement | your ad here
---
Representing ABCO and American Standard Customer Care Dealer Dolan Inc. at the live broadcast and opening ceremony, Barbara Doyle Meshach arranged the generous donation that goes toward building supplies and materials. "As the Habitat folks say, this is not a handout – it is a hand up," said Meshach.
A Habitat home is not a giveaway, a fact that the public might not be aware of. Kamili Williams, CEO and President of the local Habitat company noted, "Families receiving a home must also receive homeowner education, and make mortgage payments. The proceeds are used to start a new project.

Habitat For Humanity strives to give hard working families the independence and stability they need to build a better life. They engage volunteers, donors, advocates, and sponsors in our efforts to build homes and hope. ABCO is proud to support programs that give back to the community, and would like to thank our customers and manufacturing partners who make our participation in events like this possible.

###