Northeast HVAC News
New Air Filter Monitor, FILTERSCAN WiFi, Wins 2014 "Best of What's New" Award from Popular Science.
FILTERSCAN WiFi Takes the Guesswork Out of Changing Your Home's Air Filter, Helping You Breathe Easier and Save up to $200 Annually.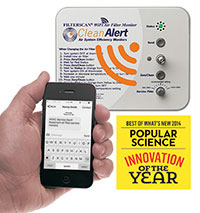 The FILTERSCAN® WiFi air filter monitor from CleanAlert LLC was today recognized with a 2014 Best of What's New award from the editors of Popular Science Magazine as part of its annual competition. The innovative monitor appears in the Home category in Popular Science's December issue, which can also be found online at https://bestofwhatsnew.popsci.com/cleanalert-filterscan-wifi.

The $99.95 wireless monitor and notification service takes the guesswork out of the important chore of changing air filters by sending text and e-mail alerts to your smartphone or tablet computer. Preventing an air filter from becoming clogged keeps a heating and cooling system performing efficiently and can help homeowners gain up to $200 in annual energy savings. But the FILTERSCAN WiFi is not just for the home. It can be used in commercial buildings as well.

Story continues below ↓
---
advertisement | your ad here
---
"The Best of What's New Awards is Popular Science Magazine's top honor, and the 100 awardees are selected from a pool of thousands. Each winner is handpicked and revolutionary in it's own way," said Cliff Ransom, Editor-in-Chief of Popular Science. "Winners of Popular Science's Best of What's New Award tend to change what the future will look like. This year's 100 honorees are no different: They are revolutionary in their respective fields."

Using patented technology to determine a filter's remaining life, the wireless monitor can determine the very point when a filter becomes too clogged with dirt, dust, pet dander and other particles to perform effectively, explains Terry L. Reavis, Vice President Sales & Marketing for CleanAlert, known for its innovative airflow-sensing solutions.

According to Reavis, most homeowners wait too long to change their air filter, allowing pressure to build up in an HVAC system, which increases energy costs, decreases equipment life and reduces indoor air quality.

"Just like an automobile's gas gauge, the FILTERSCAN takes a scientific approach to maximizing a home's air quality by monitoring how much "cleaning power" remains in an air filter while in use," says Reavis. "Clogged filters are the primary cause of home heating and cooling system failures that can cost thousands of dollars to repair. Clogged filters can also strain the blower on a system, making it operate less efficiently and increasing utility bills by up to 15 percent."

For more information on FILTERSCAN WiFi, please visit CleanAlert.com.
###