Northeast HVAC News
TACO ANNOUNCES AGREEMENT TO ACQUIRE ASKOLL SEI.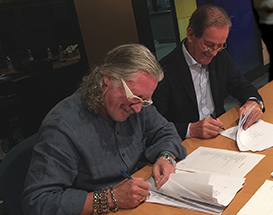 Advancing its strategic partnership with Italian pump manufacturer Askoll®, Taco Comfort Solutions™ announced today that it has signed an agreement with Askoll Holding srl to acquire 100% of Askoll Sei, a world class pump manufacturer of high efficiency pumps located in Sandrigo, Italy.

The agreement was signed at Askoll's world headquarters in Dueville, Italy by Elio Marioni, Askoll's founder and President, and John Hazen White Jr., CEO and Chairman of the Board of Taco Group.

Story continues below ↓
---
advertisement | your ad here
---
The new Taco Group company has been named Taco Italia srl and will use the trade name "Askoll Flow Solutions™" (Askoll is the licensed trademark of Askoll Holding srl).

With this acquisition, Taco has transitioned from being an American company based in Rhode Island to a global company based in America.

About Taco Comfort Solutions™
Taco Comfort Solutions™, a Taco Group Company, is a family-owned American manufacturer of HVAC heating, cooling, and plumbing products for the hospitality, education, municipal and residential markets. In business since 1920, the ISO 9001 company develops and manufactures a wide range of products and systems for both residential and commercial applications, to include circulators/pumps, valves and controls, air-dirt separators, heat exchangers, buffer and expansion tanks, domestic hot water and accessory products, and building management controls. www.tacocomfort.com
###