Northeast HVAC News
REHAU Hydronic Snow and Ice Melting Systems with New Weather-Sensing Control Option Provides Automated, Cost-Effective Solution for Managing Snow and Ice Melting.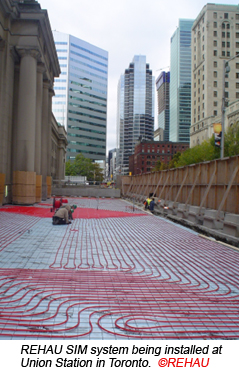 REHAU announces the availability of an advanced new weather-sensing module developed for use with REHAU hydronic snow and ice melting (SIM) systems. The combined technologies create an automated solution that often costs substantially less to operate when compared to the expense of traditional snow and ice removal methods, with an added benefit of lessened environmental impact.

REHAU's innovative hydronic (SIM) system is designed to quickly and efficiently remove snow and ice from vehicle or pedestrian pathways. SIM systems minimize snow removal and accompanying costs, as well as the need to apply salt or other melting agents that can be corrosive to outdoor surfaces and detrimental to the environment.
Installed underneath or within an outdoor surface such as concrete, asphalt or paving stones, the system includes RAUPEX® pipe, the EVERLOC® compression-sleeve fitting system and PRO-BALANCE® manifolds.


Story continues below ↓
---
advertisement | your ad here
---
REHAU Smart Controls SIM Module
The addition of the REHAU Smart Controls SIM Module allows the system to operate with optimum efficiency. The SIM control module employs the unique ability to "listen" to the weather forecast via web-enabled access to the National Weather Service (NOAA) and Environment Canada. Using the weather data and temperature sensors installed within the melting area, the control chooses an automatic idle temperature setting to warm the slab, readying the system to melt at the first sign of snow or ice. To save energy, the control turns the system off once the surface is dry.

"The REHAU hydronic SIM system combined with our Smart Controls SIM module provides a sensible alternative to the annual expense and complication of manual snow and ice removal," said Ollie Carman, applications engineer at REHAU. "In comparison, operating costs are usually much lower while the ability to effortlessly maintain safer outdoor surfaces during winter provides unparalleled convenience."

The SIM control module's web-enabled feature also allows the system to be controlled remotely from any internet-accessible device. In addition, the module is flexible, scalable and programmed to meet a range of requirements including unlimited snow melting zones and priority scheduling to clear crucial areas such as walkways and entrances first. The SIM module can be used independently or integrated with a REHAU Smart Controls indoor comfort control system.

For additional information on REHAU's complete line of mechanical solutions
contact: REHAU, 1501 Edwards Ferry Rd., N.E., Leesburg, Va., 20176. Phone: 1.800.247.9445. Fax: 1.800.627.3428. E-mail: rehau.mailbox@rehau.com. Web site: https://na.rehau.com/mp.

REHAU delivers "Unlimited Polymer Solutions," and is the premium worldwide brand for polymer-based innovations and systems in construction, automotive and industry. The company generates continuous growth through its expertise and innovative capabilities in materials development, systems design and surface technology. Approximately 18,000 employees at more than 170 locations around the world ensure success of the independent, privately held company.
###