Northeast HVAC News
Five COOL Instructors Earn Certified Master HVACR Educator Title.
What is unique about these five individuals is they all work at the same school, Lincoln Technical Institute in Mahwah, New Jersey.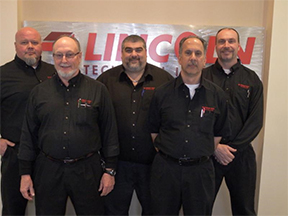 HVAC Excellence is pleased to announce that the title of Certified Master HVACR Educator, CMHE has been bestowed upon five more educators: Damon Degrassie, Richard Vervalin, Mark Urscheler, William Ginocchio and Edward Holland.

A company's success is dependent upon the quality of training their recruits receive. That's why it's essential to have the right people training you for your career.

Credentialing is a method to verify that teachers are capable of teaching the competencies within their curriculum. On the surface this seems fairly straight forward and simple; students should be confident that their teachers are giving them the best chance of success in their future careers. However, teaching HVACR is not as simple as teaching a single subject. HVACR instructors are expected to teach a variety of subjects and be subject matter experts in all of them!

In order to earn the title of Certified Master HVACR Educator, CMHE, an instructor must successfully pass six Certified Subject Matter Educator examinations with a score of 80% or higher. These exams include: electrical, air conditioning, light commercial air conditioning, light commercial refrigeration, electric heat, and one of the following: gas heat, oil heat or heat pumps. In addition, they must pass the Capstone exam which covers technical education methodologies, principles, and practices which attest to their pedagogical skills.

Story continues below ↓
---
advertisement | your ad here
---
Damon Degrassie, Richard Vervalin, Mark Urscheler, William Ginocchio and Edward Holland, have been awarded the highest credential that can be conferred upon an HVACR educator by HVAC Excellence. This is a tremendous honor as it confirms that they are Certified Master HVACR Educators.

"This is not an easy accomplishment. However anything worthwhile is usually not easy. The entire team at Lincoln feels that the time they spent studying, taking exams, evaluating the results and studying more was well worth the time. It is not about the instructors, it is about providing the best education to the students that will in turn better serve our industry." said Louis Vendrell, Director of Skilled Trades for the Lincoln Group of Schools.

"As of April 1, 2015 eighty two instructors in North America have successfully passed all of the exams needed to earn the title of Certified Master HVACR Educator. What really impresses me is that twenty three of them work at Lincoln schools." said Howard Weiss of HVAC Excellence / ESCO Group.


It is quite a statement Lincoln is making by providing their instructors with professional development and encouraging them to take educator credentialing exams. For in the end an educational program is only as good as the instructors leading the program. To learn more about Lincoln, visit https://www.lincolnedu.com.

To learn more about HVAC Excellence and the Certified Master HVACR Educator program, visit www.hvacexcellence.org.
###