Northeast HVAC News
Join the Alliance Mechanical Team.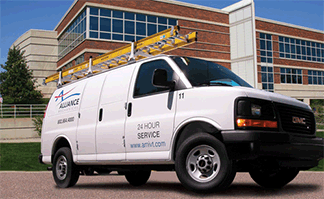 Essex Junction VT, HVAC Mechanical Contractor Alliance Mechanical is hiring. People who join the Alliance Mechanical team stay with us because this is a great place to work in the HVAC industry. We have a dedicated staff that supports each other; benefits that let you and your family rest a little easier; and challenging work that makes each day more interesting than the last.
Positions now open. Control Systems Installation and Service Technicians.
Control Technician Job Purpose: Serves customers by installing, programming and servicing HVAC digital, electric and pneumatic control systems and products.

Story continues below ↓
---
advertisement | your ad here
---
Installation and Service Technician Job Duties:
• Performs installation of DDC control systems including installing conduit, pulling wire, mounting panels and field devices, terminating controllers and field devices.

• Communicate material and equipment needs with lead technician or field supervisor, assist with system startup and commissioning.

• Implement and facilitate Energy Management System and HVAC controls and Indoor Air Quality (IAQ) monitoring and control. Write, debug, code analyze and enhance programs to balance energy management with comfort control, prepare documentation and control flow diagrams, monitor and adjust computer based EMS program for proper HVAC comfort and energy management control.

• Service existing accounts by analyzing work orders, planning daily travel schedule, investigating complaints, conducting tests, resolving problems.

• Establish service by studying system requirements, ordering and gathering components and parts, completing installation, performing acceptance tests.

• Maintain rapport with customers by examining complaints, identifying solutions, suggesting improved methods and techniques, recommending system improvements.

• Keep personal equipment operating by following operating instructions, troubleshooting breakdowns, maintaining supplies, performing preventive maintenance, calling for repairs.

• Document service and installation actions by completing forms, reports, logs, timesheets and records in a timely manner.

• Maintain customer confidence by keeping service information confidential.

• Update job knowledge by participating in educational opportunities, reading professional publications.

Skills/Qualifications: Alerton and/or Johnson Controls experience, Niagara AX certification a plus, Electrical installation, Electronics Troubleshooting, Analyzing Information , Computers and applications, Client Relationships, Tool and Equipment Maintenance, Reporting Skills, Confidentiality, Quality Focus, Results Driven.


Benefits
•Medical - BC/BS with an HSA Account; eligibility after 30 days of employment, starting with the 1st of the following month

•Dental - Reimbursement Plan after 90 days of service; prorated upon hire date

•Disability Insurance - Unum Short Term and Long Term; eligibility after 30 days of employment with the 1st of the following month

•401k Plan - with John Hancock after 90 days of employment

•Vacation - Accrual based on new hire agreement

•Holidays - 8 paid holidays per year

•Profit Sharing

•Uniform Reimbursement Program

•Prescription Eyewear Reimbursement Program

Fill out our online PDF employment application and forward to our Human Resource Department at juliar@amivt.com, or contact Jason Patnaude at 802-864-4000 ext. 5004.
Alliance Mechanical is fast becoming the first choice for quality mechanical service in Vermont, New Hampshire and New York. For more information vist https://www.amivt.com
###