Northeast HVAC News
Viega Launches New Zero Lead™ Microsite.
Zeroleadfacts.com offers up-to-date information source for new legislation going into effect in January 2014.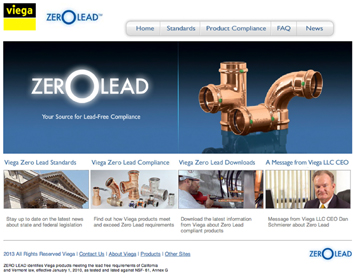 Viega has launched a new microsite, zeroleadfacts.com, as an information source on the federal "Reduction of Lead in Drinking Water Act," which goes into effect on January 4, 2014. Zeroleadfacts.com will provide up-to-date information on state and federal legislation news, standards, product compliance, Viega products, and an FAQ of the most commonly asked questions.
Viega offers a complete line of lead-free fittings in copper, 316 stainless steel, Zero Lead bronze, Eco Brass® and high-performance polymer which already meet the upcoming 2014 national lead-free requirements. All of its PEX tubing, PEX Press polymer fittings, PEX Crimp PolyAlloy™ fittings, ProPress® copper fittings, ProPress for stainless fittings and pipe, ManaBloc® and MiniBloc® already meet the approaching lead-free requirements.
The company has worked for more than 15 years to develop a lead-free alloy specifically formulated to be superior for press technology. The Viega Zero Lead fittings are certified to NSF/ANSI Standard 61 Annex G as containing less than 0.25 percent lead.


Story continues below ↓
---
advertisement | your ad here
---
A leader in Zero Lead compliance, Viega has offered products that exceed the new standards for more than 20 years. Viega was the first manufacturer to launch the Zero Lead message in 2009 in order to prepare for the new standards that were first implemented in California and Vermont. Viega is also part of the national "Get the Lead Out" consortium organized by the Plumbing-Heating-Cooling Contractors Association (PHCC) to educate contractors nationwide.
"Viega has developed a tool with zeroleadfacts.com to help guide contractors and distributors through the upcoming lead-free mandates," said Derek Bower, metals product manager at Viega. "Viega has always kept up with the changing codes and standards in order to pioneer new products that our customers need." He added, "With a company commitment to providing clean, safe, healthy drinking water delivery systems, our customers can be confident knowing that when they are specifying or installing Viega systems, they are getting solutions that meet and exceed the most stringent lead-free requirements."
In late 2011, Viega formed a cross-functional Zero Lead conversion team to implement all the changes required by the new standards and educate customers and distributors. In addition to developing the content for zeroleadfacts.com, the team is working with product management and supply chain departments to coordinate the discontinuation of the standard bronze products and to ensure a smooth transition to the new Zero Lead bronze alloy nationally.

About The Viega Group:
Founded in 1899, The Viega Group manufactures and distributes the highest quality plumbing, heating and pipe joining systems in the world. Viega is best known for innovative press technology systems for industrial, commercial and residential projects, like Viega ProPress® for copper and stainless and Viega PEX Press systems in Zero Lead bronze and high-performance polymer. Viega LLC offers more than 3,000 products in North America. For more information, visit www.viega.com.
###