Northeast HVAC News
S. Williston Sales Company - A Generation of Respected Representation.
S. Williston Sales Company is a Manufacturers' Representative providing forward-thinking sales, service and support to wholesale distributors throughout New England and upstate New York.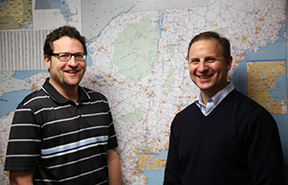 Stephen Williston is the founder and President of S. Williston Sales. His experience is a culmination of over 15 years representing major HVAC/R Corporations and over 20 years in business, management, and sales. Stephen grew up in the HVAC/R industry and learned to be a top performer as a Manufacturer representative from his father, the late Jerry A. Williston who was a respected industry leader. Working alongside his father covering New England and Upstate New York, he learned the most important attributes of a successful Manufacturer Rep agency.
Chris Williston is the Director for Account Management at S. Williston Sales. Chris has over 13 years of experience in account management, sales, finance, and customer support. Like Stephen, Chris grew up in the HVAC/R industry and gained tremendous insight from his father and brother. In addition to Account Management, Chris is involved in many engagements to help research, grow, and expand the S. Williston Sales product base and customer reach. Chris is responsible for the marketing efforts and inside sales support for the company.

Story continues below ↓
---
advertisement | your ad here
---
Over the years, S. Williston Sales has perfected a selling approach building trusted relationships between their company and the manufacturers they represent. Distributors rely on them as a valued resource as they solve challenges through innovative and cost effective solutions. Download their current line card here.
They are located at 2843 South County Trail in East Greenwich RI. The phone number is (401) 667-7975. Visit their web site at www.swillistonsales.com.
###