Northeast HVAC News
F.W. Webb Company Opens New Location in Ballston Spa.
New 40,000-square-foot facility offers unmatched expertise and the latest products to contractors, tradesman and other industry professionals.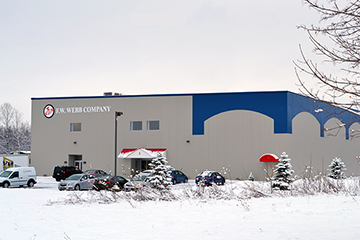 F.W. Webb Company, the largest wholesale supplier of plumbing, heating, cooling and industrial products in the Northeast, has announced the opening of a new location in Ballston Spa, NY. Located at 1 McCrea Hill Road, the new 40,000-square-foot facility will feature F.W. Webb's full inventory in a convenient, open concept layout.

In addition to a broad selection of products, the new facility offers expert assistance to contractors, tradesmen, facility managers and other industry professionals. The facility will receive regular stock replenishment from its 400,000 + sq. ft. Central Distribution Center, located in Amherst, NH, with over 160,000 items in inventory. . Additionally, the location will be the future home of a Frank Webb's Bath Center retail showroom, slated to open in the first half of 2014, that will provide cutting-edge kitchen and bath solutions for homeowners.


Story continues below ↓
---
advertisement | your ad here
---
"We could not be more thrilled to bring F.W. Webb to industry professionals in the Ballston Spa area," said Rick Face, General Manager, Albany, NY. "This new facility is going to be a great resource for providing the latest products from top brands in plumbing, heating, HVAC, refrigeration and more. The location also includes a 36 person training room for our knowledgeable staff to offer courses on the latest tools, products and techniques."

For more information on F.W. Webb and the new Ballston Spa location, please call store manager, Mike Bifanot 518-490-7500 or visit fwwebb.com.



About F.W. Webb
Since 1866, the F.W. Webb Company has been proud to offer outstanding products and services to industrial, institutional, commercial, and residential wholesale customers throughout New England and New York. F.W. Webb is the largest Northeastern distributor of products in a growing number of areas including plumbing, heating, HVAC, refrigeration, LP gas and natural gas, water systems, fire protection, valve automation and instrumentation, pumps, life sciences, sanitary, industrial pipe, engineered plastics, and fittings. With more than 75 locations, F.W. Webb's extensive inventory and dedicated fleet of trucks reach every corner of the Northeast. The company supports its delivery power with a network of sales professionals and support specialists with deep expertise in the industries it serves. For more information about F.W. Webb, please visit fwwebb.com.

###