Northeast HVAC News
Dream Classic to Benefit Make-A-Wish

HELPING OTHERS IS PAR FOR THE COURSE.
1st Annual ABCO Dream Classic to benefit Make-A-Wish raises over $100,000.




It's a great feeling to give back to the community. It's even better when giving back is as easy as hitting the links on a late summer afternoon.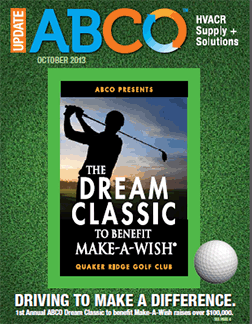 It certainly was a fun atmosphere as ABCO customers and manufacturer-partners from Presenting Sponsor Luxaire, Title Sponsors Mitsubishi, DuPont & Heatcraft, plus other leading manufacturers came together at the historic Quaker Ridge Golf Club in Scarsdale, NY for the very first ABCO Dream Classic Golf Tournament to benefit Make-A-Wish. ABCO has raised or caused to be raised over $1.2 Million since we first became involved in Make-A-Wish back in 2002.

Festivities were underway at 11 a.m. for a delicious welcome brunch, followed by a trick golf shot demonstration by renowned entertainer Dan Boever. Hilarity ensued as Andy Kelly, ABCO Vice President Sales & Operations, graciously volunteered to assist Dan as he nailed shots from uphill lies, downhill lies and "buried" lies. Then it was time to tee off for a 1 p.m. shotgun, with 21 foursomes competing for the best score.

Michael Senter, CEO ABCO, and Chairman of Make-A-Wish Metro New York & Western New York welcomed everyone to the course and thanked them by saying, "Today is about you and this gorgeous golf course and this perfect day. You're doing something for a charity that is just beyond good." After eighteen challenging holes on the magnificent Quaker Ridge course—rated #38 in the country—the group of Bud Nardello, Mario Bruni, Jeff Karp and Bill Valus won top honors with a low gross of 71.


Story continues below ↓
---
advertisement | your ad here
---
Scott Berger of Arista wowed everyone, sinking a hole-in-one on the difficult 10th and Phil Tuffnell of EB Mechanical generously donated his $750 honeypot winnings to the Make-A-Wish Foundation as an added contribution. Whatever their final score, a great round was had by all, and a remarkable $111,430 was raised for the Make-A-Wish Foundation of Metro New York. We can't thank our customers and manufacturers enough.

After finishing up on the course, the tournament participants joined even more guests from ABCO, and other donating sponsors for an amazing gourmet dinner. Michael Senter expressed his gratitude and reminded everyone of the importance of supporting the Make-A-Wish Foundation in its efforts to provide hope for children dealing with life-threatening illnesses.

We here at ABCO would like to extend our thanks to everyone who participated, as well as all of our customers for their continued help and support. It means a lot to us that so many of our customers can stand tall as leaders in their community, helping Make-A-Wish make a real difference for children with life-threatening conditions. We look forward to even more of you joining us next year for a day of great food, great golf and the warm feeling that comes from knowing we're all working to make life better for children who deeply appreciate our commitment to helping them receive treatment and heal their spirit. So save the date for our 2nd Annual Dream Classic at Quaker Ridge on Tuesday, September 16, 2014. Thanks again, hope to see you next year.

Pat Clemency, President & CEO of Make-A-Wish Metro New York & Western New York, also thanked those in attendance, as well as all ABCO and Luxaire customers for their continued support in giving back to the community through the Make-A-Wish Foundation. "So much of what has happened in this partnership with ABCO and Luxaire and with all of you have really allowed our kids to imagine the future," said Clemency."If you could imagine as long as you could for as hard as you could, you still could never imagine the difference you've made in the life of my child."
For more information about the ABCO visit their website at ABCOhvacr.com, or call
877-937-ABCO.
###