Northeast HVAC News
E.W. Leonard and Robur Corp. Provide a Green HVAC Solution in NH.



New Horizons for New Hampshire, a homeless shelter serving greater Manchester needed innovative answers to solving their heating and cooling needs. the shelter never had air conditioning, and the need for a green solution was never greater. They serve over 900 people per year at their facility.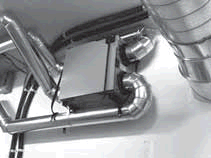 The impetus for seeking a new HVAC system was a desire to cut heating costs and provide air conditioning for this non-profit organization. The load requirements are 600,000 Btus heating and 25 tons of cooling.
Clark Peters of E.W. Leonard, manufacturers' rep company and Jeff LaPointe of wholesaler distributor F.W. Webb put together a specifications for the equipment installed.
The equipment list includes 5 Robur heat pumps; 2 Imperial HRVs; 3 Myson hot water/chiller fan coils units; First Company air handlers for large spaces; a thermal mass tank and 2 back-up Rinnai wall hung units along with 2 storage tanks.
The project is a $249,000 makeover that replaces and antiquated oil burning system with one that is estimated to be 40% more efficient. The natural gas and solar sources use five soar panels and a collector system with 240 gallons of potential hot water storage.

Story continues below ↓
---
advertisement | your ad here
---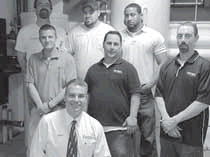 The old system used an out-dated oil fired steam boiler connected to steam heating units. The entire heating and hot water energy distribution system is fueled by solar and natural gas. Eighty percent of the ductwork is new, although existing ducts were utilized where possible.
The ROBUR Gas Absorption Heat Pumps are also GREEN units because emissions are reduced by 9,300 pounds of C02, which is equivalent to those absorbed by 599 trees or to those produced by 2 green cars.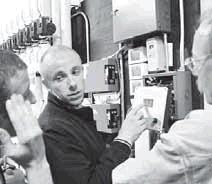 Gas Absorption Heat Pumps combine the advantages of the two most common heating technologies; gas boilers and electric heat pumps. They offer all the advantages of boilers because: they are fired by natural or propane gas; they don't use any refrigerants harmful to the environment and they are easy to install. They also offer all the advantages of electric hat pumps because they use renewable energy ,such as air ground and water; they can supply chilled water for cooling in summer and hot water for heating in the winter (reversible type) and they are suitable for outdoor installation and they don't need mechanical room (air-source).
The operating principle is similar to traditional electric heat pumps. The main differences are the se of a gas burner instead of an electric compressor and the use of a water-ammonia solution instead of a refrigerant harmful to the environment, as is the case of most electric heat pumps.
Robur Corporation was founded in 1991 by the Robur Group, a leading Italian Manufacturer of advanced heating and cooling technologies sold throughout Europe since 1956. This step insured Robur of future growth opportunities along with a distribution channel for its European products throughout the North American market. At their facility located in Evansville, Indiana, Robur Corporation manufactures and distributes high energy efficient and low environmental impact natural gas operated heating, air conditioning and refrigeration systems.
In addition to the Robur equipment, E.W. Leonard also supplied three Imperial heat Recovery Ventilators to the new Horizons project. Imperial Manufacturing Group's remarkable story began with an entrepreneur named Normand Caillie and four workers in 1979 toiling in a 6,400-square-foot sheet metal shop in the small Atlantic Canadian community of Richibucto, New Brunswick. Imperial has become a word class manufacturer of ore than 7,000 heating, air conditioning, ventilation and building products for residential and light commercial applications. It has 530 employees working in 500,000 square feet of manufacturing and warehouse space spread in facilities across North America. It is an acknowledged innovator in the design and production of indoor air quality equipment for North American heating, ventilation and air condition industry.
Throughout the years, IMG has acquired and absorbed 17 companies and now operated 10 diversified divisions. The company's facilities are located in New Brunswick, Nova Scotia, Ontario, Quebec, and the United Sates.
E.W. Leonard is a manufacturers; representative company that provides a large array of energy efficient and green products. Their staff of experienced salesmen is there to assist putting the whole job together, large or small. Visit their web site at www.ewleonard.com

###