Northeast HVAC News Guest Column
Three ways your marketing can stand out in a cluttered home service industry.
Ripley PR says that plumbing and HVAC businesses can thrive in a hypercompetitive market by rounding out their marketing plan with proven PR strategies.

Ripley PR, the leading global public relations agency specializing in home services, franchise and B2B tech, offers three strategies for home service companies looking to stand out among competitors and gain market share in an increasingly crowded, marketing-savvy industry.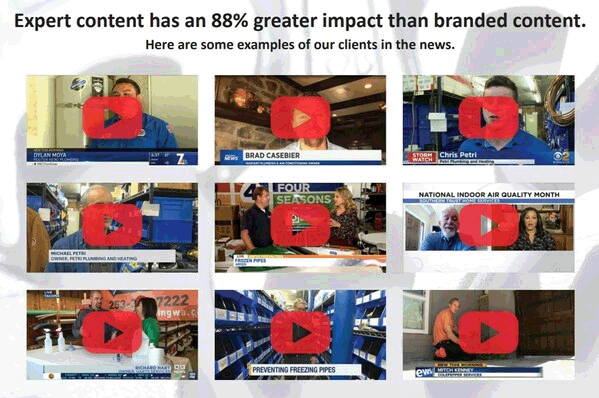 "Most great home service companies, from plumbing to HVAC and from electrical to landscaping, understand the importance of marketing in growing their businesses," said Heather Ripley, founder and CEO of Ripley PR and author of Next Level Now: PR Secrets to Drive Explosive Growth for Your Home Service Business. "The ones that truly stand out, though, are those that look for and implement the strategies their competitors are ignoring. In the home service space, this often includes proactive, positive public relations."

Ripley says that the following are three proven strategies home service businesses can implement now to reach the next level in 2023:
1. Become the most trustworthy, go-to expert.
Founded in 1906, Brooklyn's Petri Plumbing, Heating, Cooling & Drain Cleaning has successfully leveraged press releases and media pitching for the past 10 years to become trusted expert sources for New York journalists working on stories about property protection and saving money on utility bills.
"PR has helped us provide safety tips and money-saving advice to thousands of homeowners in New York, whether it's a story about reducing energy during a heat wave or preventing burst pipes during a freeze," said Chris Petri, operations manager at Petri Plumbing. "When we appear in the news, we not only get to help families avoid unnecessary expenses, but we receive more service calls from viewers that are reminded we're here and can always be counted on."

2. Do things differently and tell people about it.
Home service companies that have a unique culture, style, or innovative business model stand out from the rest, but only if homeowners in their markets know about it. High 5 Plumbing in Denver, Colorado is an example of a business that genuinely leaned into their brand and found success in sharing their personality with the world.
"We founded our company with the motto that 'every call ends with a high 5,' and our positive culture and desire to break stereotypes of plumbers has made a huge difference for our business," said Levi Torres, owner of High 5 Plumbing in Denver, Colorado. "Using PR to share what we're doing, from launching our online High 5 clothing store to offering remote video quotes for services, has resulted in media coverage that translates into real, measurable growth and a priceless energy for our team."
Story continues below ↓
---
advertisement | your ad here
---
3. Promote your community engagement and good works.
Talking about charitable efforts and giving is often uncomfortable for business owners; however, promoting a partnership or initiative with a local organization is often one of the best ways to increase awareness for the cause itself and help the organization do more good. Ted Puzio, owner of Southern Trust Home Services in Roanoke, branded an annual campaign called Heat for a Hero that delivers and installs a new heating system for a local veteran in need of warmth during the winter each year.

"At first, I was uncomfortable promoting our annual efforts because it felt self-serving," Puzio said. "Once we did, I realized that it increased the nominations we received and started more conversations about what can be done for the veterans in our community. They've sacrificed so much so that we may live in safety and comfort, and raising awareness about the challenges they face here at home has become tremendously important to us."

Ripley PR was founded in 2013 with a focus on PR for skilled trades, B2B technology and franchise development. Ripley PR was named to the Forbes list of America's Best PR Agencies for 2021 and has been included in Entrepreneur's list of Best PR Agencies for Franchise five years in a row. The agency offers strategic communications solutions for its clients, including crisis management, media relations and social media strategies.

To learn more about Ripley PR, visit www.ripleypr.com or call (865) 977-1973.

About Ripley PR
Ripley PR, Inc. is an elite, global public relations agency specializing in franchising, construction, technology, home services and manufacturing. Offering a full range of strategic communication services, including crisis management, media relations and social media strategies, Ripley PR uses a blend of strategic business acumen and creative public relations branding to tell compelling stories and deliver measurable results. Ripley PR is a partner in IPREX, the $350 million network of communication agencies, with 1,800 staff and 115 offices worldwide. For more information, visit ripleypr.com or call 865-977-1973.
###